CamSpec M501 Spectrophotometer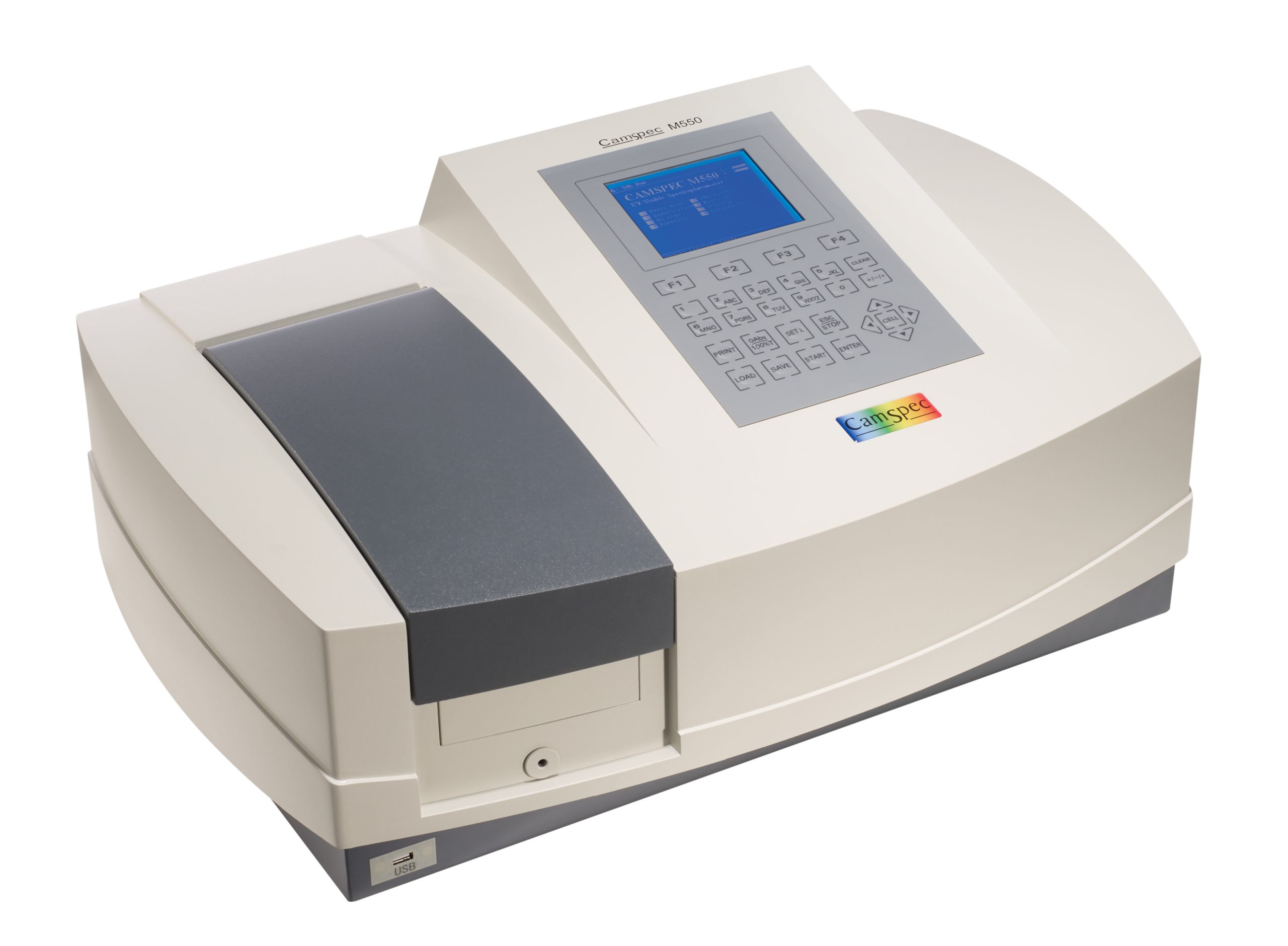 Single beam UV-Vis M501 spectrophotometer designed for research and routine use.
Models available with either 2nm or 4nm bandpass.
Local or remote control via PC software and USB interface for transfer of results.
Complies with UKCA and CE requirements for safety and ESD/EMC emission and susceptibility.
Exceptional sensitivity, resolution, stray light, noise and drift specifications.
Large range of accessories for laboratory automation and specific tests.
Calibrated in the UK by qualified engineers using international standards for wavelength, absorbance, resolution and stray light.
Product Range Overview Video
---
Paul Douglas, Technical Assistant at Teesside University
"We've had great service. Mark and Paul are always easy to get hold of, and do the job excellently. They go above and beyond - in fact they've even tailored their software to a particular need we had in the past, which was extremely useful to us."
Bev McGrath, Senior Technician at Liverpool John Moores University
"We work with you because you've always gone above and beyond to give us perfect service, and we've never been disappointed. I also like that you're a family business."
Operating Modes
Basic Mode (Abs, %T, Conc)

Quantitative (concentration calibration curves)

Wavelength

Scanning

Kinetics (including timedrive)

DNA/Protein

Multi-Wavelength

Performance Validation
Software and PC Control



Local control with wipe-clean membrane keypad
Remote control via PC CamSpec UV-Vis Analyst application software
USB output for the transfer of results
Pharmacopoeias 
The CamSpec M501 passes the following pharmacopoeia tests:
Potassium Chloride stray light test
Toluene in Hexane resolution test
Holmium Perchlorate solution wavelength test
Potassium Dichromate absorbance test
Technical Specifications
| | |
| --- | --- |
| Display | Graphic LED Module |
| Light Source | Tungsten-Halogen and Deuterium |
| Monochromator | Single beam, grating 1200 lines/mm |
| Detectors | Silicon Photodiode |
| Wavelenth Range | 190-1100nm |
| Wavelength Accuracy | ±1.0nm |
| Wavelength Repeatability | ≤0.2nm |
| Wavelength Resolution | ±0.2nm |
| Stability | ±0.0005Abs@500nm |
| Sample Compartment | Fits 100mm path length cuvette with optional holder |
| Standard Cell Holder | 4 position 10mm cell changer  |
| Software | UV-Vis Analyst, optional |
| Zero Drift | <0.003A per hour after warm up |
| Bandpass | 2nm or 4nm |
| Stray Light | <0.1% @ 220nm&340nm |
| Photometric Accuracy | ±0.5% |
| Photometric Range | 0-200%T,-0.3-.2.8A |
| Printer Interface | Bluetooth |
| Computer Interface | USB for PC control and USB for data export |
| Power Requirements | 100V-240V AC, 50Hz/60Hz |
| Instrument Dimensions (lxwxh) | 420x550x270 |
| Instrument Weight  | 18.0kg |
| Shipping Dimensions (lxwxh) | 660x550x390mm |
| Shipping Weight | 19.3kg |
Contact us
If you have any questions or require further information, please do not hesitate to email us at [email protected], call us on +44 (0)113 286 4536 or submit a contact form.